Recreation and Parks

What we do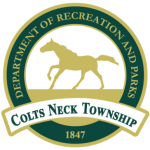 The Colts Neck Township Recreation and Parks Department is committed to providing diverse, year-round activities to enhance the quality of life for the members of our community. With this in mind, we strive to develop and maintain state-of-the-art sports and recreation facilities, beautifully maintained parks and open spaces, and recreational programming that will enhance the physical, social, and emotional well-being of our residents while offering safe, fun, memorable recreational experiences.
---
All permit requests for Buildings and Grounds are to be submitted via email to cnrecpks@coltsneck.org
---
TO REGISTER FOR ALL RECREATION ACTIVITIES AND PROGRAMS.
CLICK THE COMMUNITY PASS BUTTON: Community Pass
NEW CLASSES - CHAIR YOGA & CHAIR DANCE
Sculpt, Pilates, Barre classes with Debbi
---
The Colts Neck Recreation Department is pleased to share with you the phenomenal achievements of the Colts Neck High School Athletes during the 2020 – 2021 Sports Season, click here for more information.
---
With the Colts Neck Community Band presently on hiatus as the result of COVID19, we are pleased to share an inspiring musical piece by Aaron Copland, "Fanfare for the Common Man", played over the years as a rallying call, to unite and honor, during difficult times.  Participating in this ensemble of sixty-two musicians from around the world is one of our conductors of the Colts Neck Community Band, Eric Robertshaw and members Joe Walter and Geoff Grice.
---
BIG BROOK FOSSIL PRESERVE:
2019 Big Brook Rules and Policies
Before looking for fossils at the Big Brook Fossil Preserve, please be sure to contact the Recreation Department 732-780-6666 and obtain a permit.
---
All fossil hunts must be in compliance with Township Municipal Code, Chapter 177, Subsections 43-46:  Chapter 177 Big Brook Preserve
Gallery
Contact Us