Police Department

What we do
It is the mission of the Colts Neck Police Department to provide superior law enforcement service while making our community the safest place for all to live, work, and visit.
This will be accomplished through a steadfast dedication to community service, an uncompromising concern for the welfare of all, and a Department dedication to continuous improvement. We will also work collaboratively to fulfill our Department's paramount duty: the prevention and detection of crime, the apprehension and prosecution of criminals, and the relentless pursuit of justice.
---
**Important Notice**
Effective Monday May 18, 2020 all Colts Neck Township Police Department functions will be relocated to 1 Heritage Lane Colts Neck NJ (First Aid Squad Building). This move is to facilitate the demolition of our old Police and Court building and the anticipated construction of a new Township Municipal building. All police phone contact information will remain the same and our mailing address will continue to be 124 Cedar Drive Colts Neck NJ 07722. Any in person police business, including obtaining copies of reports, will be conducted at 1 Heritage Lane Colts Neck. All essential and emergency police functions will continue to operate without any interruptions during this transition.
---
**NOTICE**
Please click here for an important Press Release from the Colts Neck Police Department regarding vehicle thefts and burglaries.
PUBLIC NOTICE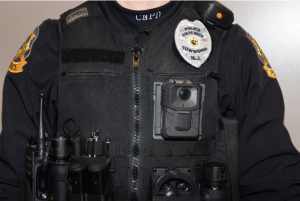 As per New Jersey Attorney General Body Worn Camera Policy Section 4.1 Public Notice: The Colts Neck Township Police Department deploys Body Worn Camera (BWC) technology. The picture depicts how the BWC would be worn by our officers in the field. This message and picture will assist citizens in determining whether an officer is equipped with the BWC device.
---
Internal Affairs Reporting And Policies
Internal Affairs Instructions for Webpage
Annual Internal Affairs Summary
Annual Major Discipline Report 2021
Early Warning System Annual Report
2020 End of Year IA Summary Report
Internal Affairs Complaint Form
---
Open Public Records Act (OPRA):
To request Police Department records under the Open Public Records Act, please utilize the form linked as follows:  OPRA Form for Police Records
---
Related Links
Firearms Discharge Map (11-2019)
Frequently Asked Questions – firearms purchase and transporting, emergency management, etc.
Monmouth County Prosecutor's Office
NJ Department of Law and Public Safety
Monmouth County  Special Needs Registry
Report a Concern
Contact Us